What is a Magic Card?
......
The magic card or "never ending card" is a nice folding in the shape of a card, which you can open again and again.
There are four different shapes during a cycle.
It is easy to make.
---
How to Make it top
| | |
| --- | --- |
| ...... | Divide the rectangle 20cm x 10cm into 12 smaller rectangles. |
---
......
...
Cut the rectangle in four equal pieces.

Go over the red lines with an empty pen.
So you can fold the paper at the lines more easily later.
---
| | |
| --- | --- |
| ...... | Form two rectangles into a U. |
---
| | |
| --- | --- |
| ...... | Fasten a U-piece on one rectangle with a paper clip as shown. |
---
| | |
| --- | --- |
| ...... | Fasten the same U-piece on the second rectangle in the same way. |
---
| | |
| --- | --- |
| ...... | Fasten the second U-piece below. |
---
......
Replace the paper clips with glue.
Be careful: Put glue only on the (virtual) corner squares.
---
| | |
| --- | --- |
| ...... | The magic card is finished. |
---
Sequence of Foldings top
...

Open the card at the double lines.
---
Öffne die Karte jeweils an den Doppellinien.

......
There are eight surfaces.
This is important to know for when you write on them.
---
One Piece Magic Card top
Fernando Diaz Ziehl from Mexiko sent me the following template.
>Print out the template.
>Cut out the template, cut also along the black lines inside.
>Fold as described.

---

You get the H shaped figure from above. If you like, you can also glue.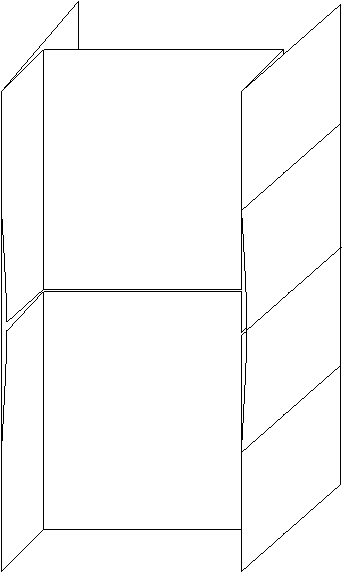 ---
Comments top
About twenty years ago I got this card which advertised for the products of a famous cosmetic company.
Last year I made a web page in German. I didn't feel right about it as I didn't know whether the magic card was protected by a copyright.
I called this folding a H-flexagon.
Gerd Schenk sent me an email with a link to the video called "Memory Cross and Andy" this month (February 2009). This led me to the web site http://www.memorycross.com.
Now I know the magic card is obviously free of a copyright.
Gerd Schenk found another link to the German web site http://www.faltwerk.de/ showing three-dimensional versions.
I also found the name magic card, which is more appropriate for this folding.
In the meantime (March 2010) I got to know the name Never Ending Card, and thus I found the way to many sites.

---
Magic Card on the Internet top
English
Andy
Memory Cross
Peter Dahmen
Endless Love

---

German

Bastel-Elfe
Neverending Card - Endloskarte

Luise Gand (Video bei Youtube)
Klappkarte/Endloskarte - kreativer Unterricht - Bastelanleitung

Peter Dahmen
Endlose Liebe

Sabrina Batzel
Anleitung Endloskarte
---
Thank you Gail from Oregon Coast for supporting me in my translation.
---
Feedback: Email address on my main page

This page is also available in German.

URL of my Homepage:
http://www.mathematische-basteleien.de/

© 2009 Jürgen Köller
top
---